Saga Group Cookie Policy
Last updated: 25th August 2023
The Saga Group use several methods to provide you with a customised experience. The best-known way we do this is by using 'cookies'.
What are cookies? Cookies are small data files that a website will put on your device. Some of these send information back to the website. They do not affect your device, but they can collect information that will enhance how you use the website. For example, a cookie can remember the items that you have placed into your shopping basket, or it can ensure you get the offer you requested. These are known as 'session' cookies, which expire as soon as you leave the site. Other cookies can tell us if you come back. These are 'persistent cookies', which expire 3 years after your last visit unless you delete them from your device. We use them to customise the website – such as to display relevant information during your visit. Some cookies enable websites to work, while others help us learn about what people are browsing for.
How we use cookies
We use cookies to ensure you get the most from your visit. They improve your website experience because certain features work best with cookies. Feedback and information from the cookies can also help make the website better. Rest assured that the cookies we use are secure and do not store personal details, such as payment card numbers. Here are the main types of cookies and what they do:
1. Strictly necessary
These cookies enable you to get the information or service you've asked for. They're essential – without them, some services may not work.
For example: We use these cookies to enable you to use shopping baskets, which remember your choices and enable you to buy.
2. Performance cookies
These cookies collect information and/or monitor and record the pages you visit, where you go most often and whether you see error messages. The information is used to ensure our website works well. They may also be used to clarify and answer queries from you, where the information is available.
For example: We gather information to diagnose problems and issues. We then use it to make improvements and fix errors.
3. Functional cookies
These cookies remember choices you've made to personalise the website. They may remember where you are so you can get tailored information or remember changes you have made to help you browse, such as increasing the text size.
For example: If you ask for services based on your location, we sometimes store a cookie so that next time you visit you won't have to tell us again.
4. Targeting or advertising cookies
These cookies collect information about your browsing habits which are then used to supply you with targeted and personalised on and offline advertising and marketing. They remember if you have visited a website and share this information with advertisers.
For example: Third parties may use these anonymously to serve advertisements on our behalf based on your interaction with Saga's website through cookies, quizzes and other technologies. This information may be used by us and our third parties to analyse and track data. It helps us deliver advertising, marketing and content that is based on your interests and enables us to limit content your browsing history suggests you have no interest in. These services are provided on Saga's websites or by our carefully selected and monitored partners and we are committed to ensuring any information is used appropriately.
Links to other websites
We often link to other websites to help provide you with extra information or services. For example, to make it easy for you to share information with your family and friends, we provide links to Twitter, Facebook and other popular social media or book-marking websites. But remember, these websites may use cookies that we do not control, so be sure to check how they use your information.
How you I manage my cookies?
When you first visit our website, you will be presented with a banner which offers you a choice about whether to 'accept all cookies' or customise your cookie settings via a privacy preference centre, with the exception of those cookies which are strictly necessary for a particular service.
If you wish to amend your choices or withdraw your consent at any time, you can do so using the Cookie Settings button/link on the Saga Website, found on the bottom of all our pages and highlighted in yellow below:

Clicking that will open the Privacy Preferences Centre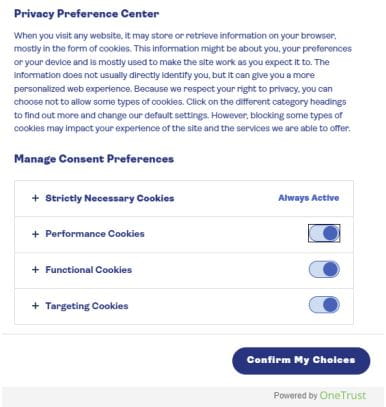 How to clear browser cookies
You may also set your browser to block all cookies or to indicate when a cookie is being set. If cookies are disabled on your device, you will still be able to use most of our website. However, it may limit what you can do.
How you manage your cookies depends on your browser. Typically, you can amend or delete cookies manually by clicking on the 'settings' function in your browser.
If you would like to know more about cookies you can visit www.allaboutcookies.org which explains in detail how they can work and can be managed.
You can find information on how to manage cookie settings on certain browsers via the following links:
To find information relating to other browsers, visit the browser developer's website.
To opt out of being tracked by Google Analytics across all websites, visit http://tools.google.com/dlpage/gaoptout.
Further information and help

If at any time you are concerned or have questions about how we might be handling your data, please reach out to our Data Protection Officer at data.protection@saga.co.uk.